Europe Trip 2002 -
The Inside Story
Our adventure in Europe was more than a mere tour of the major sights and sounds. Travelling this ancient continent with a backpack and a shoe-string budget was an enjoyable experience in numerous intangible ways. Here's an inside look on our memorable expedition.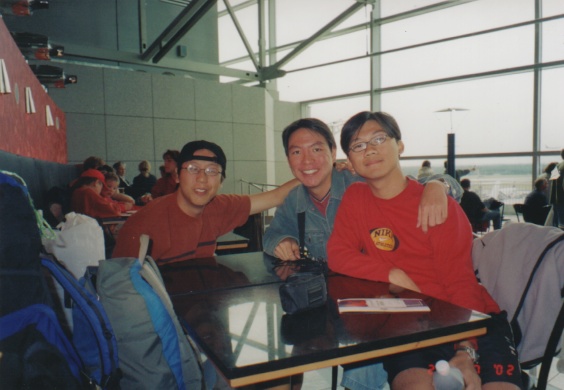 First introducing the three of us (from left to right):
Mark - travelholic, food connoisseur and cultural-historical enthusiast; has learnt that the most affordable and best souvenirs are often precious items like photographs, postcards and memories...
Soo Jin - our financial planner and travel advisor; never leaves home without his valuable palmtop, saving us invaluable time in travel and financial calculations; has a penchant for Hard Rock Cafe and never leaves a city without looking for one; has a soft spot for crepes...
Weilong - group's ambassador and humourist; his "Ginvera" look and keen sense of humour has endeared us to many other sojourners; also has a fondness for Swatch watches and gelato ice-creams...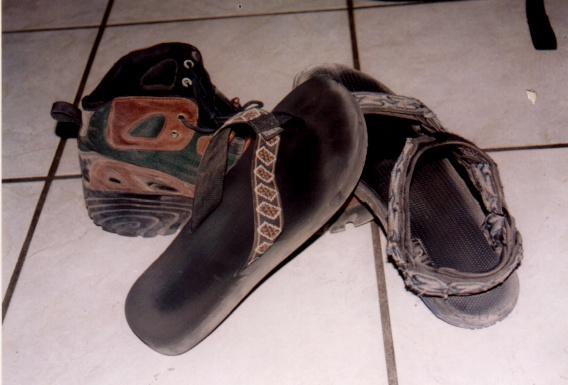 Dusty shoes and sandals; often the mark of a well-travelled adventurer who has walked many hours along the road searching either for a renown place of interest, a place to rest his head, or simply to wander aimlessly in the streets of a European city in a bid to immerse himself in the culture of the place...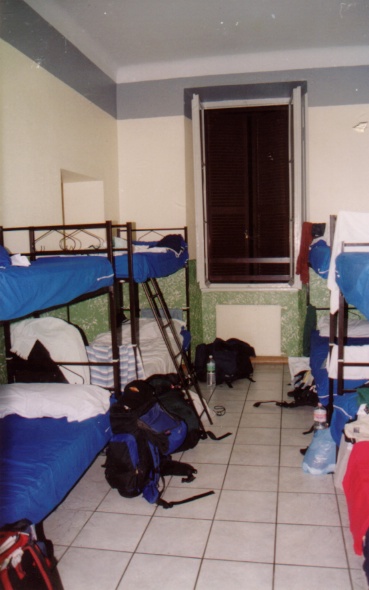 After a long day's travel and imbibing the culture of a city, it's always great to have a roof over our heads - in this case simple hostel rooms suffice for the traveller on a shoe-string budget. It's also an opportunity to mingle with other sojourners around the globe to learn of their lives back home as well as the best places to visit and eat.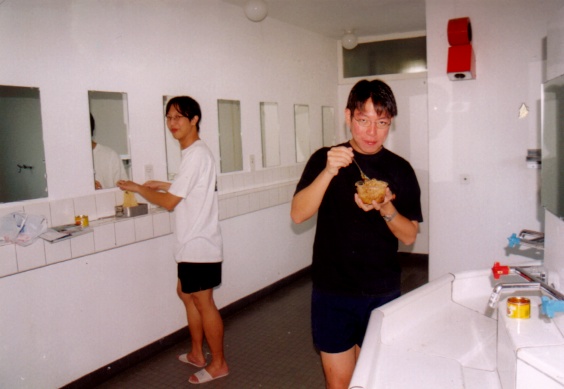 Food - It's not all fine wine and dine; quite often we settle for instant noodles and canned food - all we need is an electrical outlet (as seen here in a Swiss hostel) and we're ready to fill our stomachs. Of course we do make it a point to enjoy a good meal once in a while to appreciate the delicious cuisine Europe has to offer.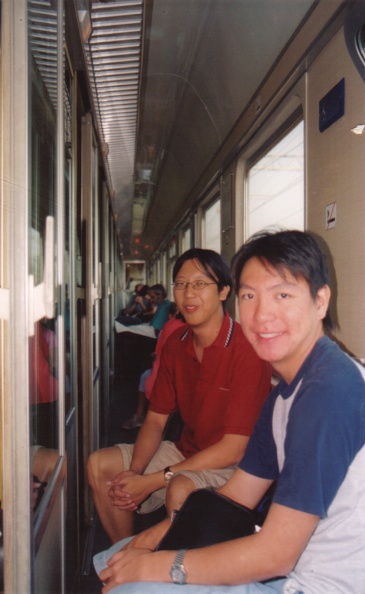 Trains - the most common means of transportation within cities and between countries in Europe. Mostly seated second-class cabins except for those with financial resources to spare. Sometimes packed to the sides with people - like this train in Italy; we take our seats on make-shift foldable chairs along the corridors...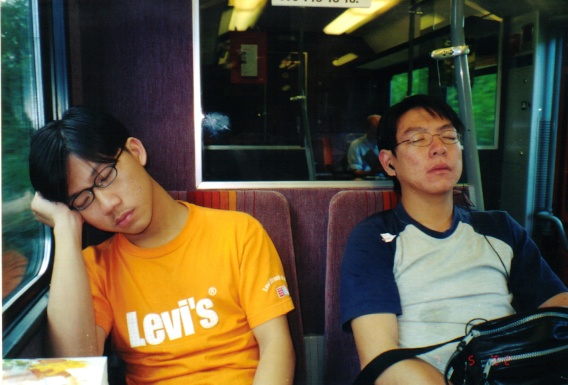 Travelling is long and arduous. Lots to see and learn; but weary travellers find opportunities to rest in any and every possible situation presented to them. Here's Weilong and Soo Jin stealing forty winks before we arrive at our next destination - for another round of sightseeing and cultural immersion.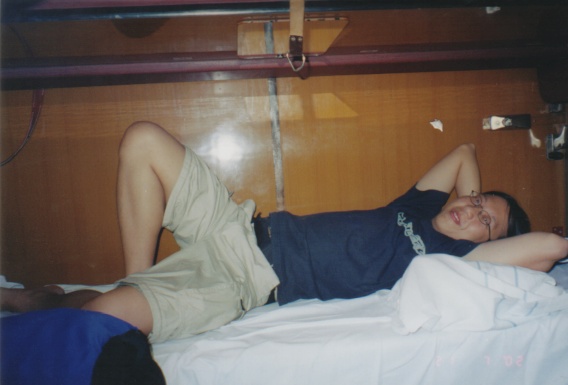 The night train - interestingly, some cabins allow room for travellers to sprawl out and spend a comfortable night on their backs. It's still a bumpy ride throughout the night with constant ticket checks and passport inspections, but at least you get a comfortable bed to rest your aching body. Such facilities are not the most economically viable though, and are actually quite a luxury.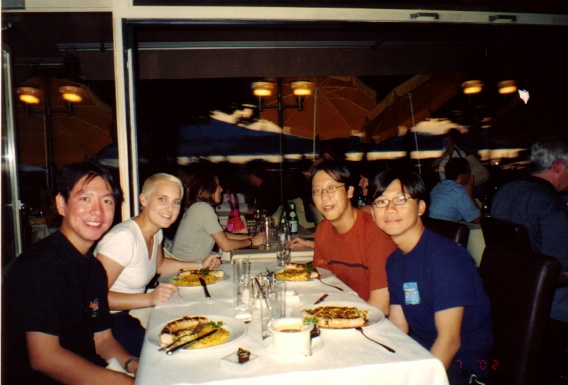 All in all, this European trip was a most memorable experience for all of us. Indeed we were blessed by learning so many new things as we explored and appreciated what the continent had to offer. One of our joys was sharing the hospitality of our newfound friend Tanja in Switzerland, who took us out to a sumptuous traditional dinner of sausage and rosti.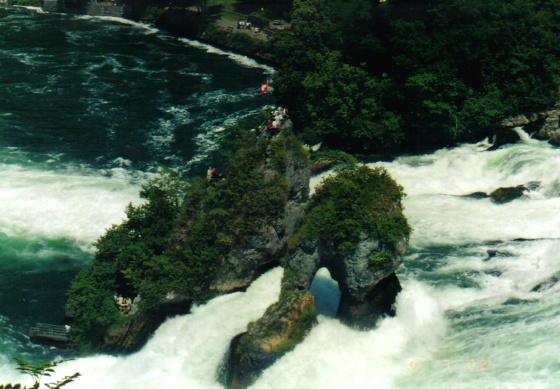 Europe - a place of immense scenic beauty - like this location, the Rhine Falls of Switzerland, one of the largest waterfalls in Europe. There were also the breathtaking heights of the Swiss Alps and the picturesque landscape of the Swiss countryside among others.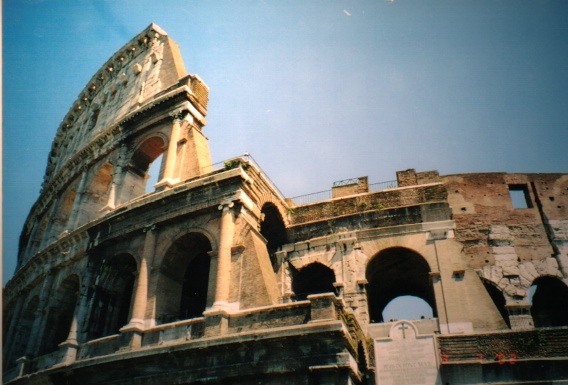 Europe - a place of deep historical and architectural significance. Featured here, the Colloseum in Rome, the icon of entertainment in ancient times. It was also humbling to walk where kings walked, like in the castles of Salzburg and Prague, and to imbibe the splendour of the great churches of ancient Europe, such as Notre Dame in Paris and St Mark's Basilica in Venice.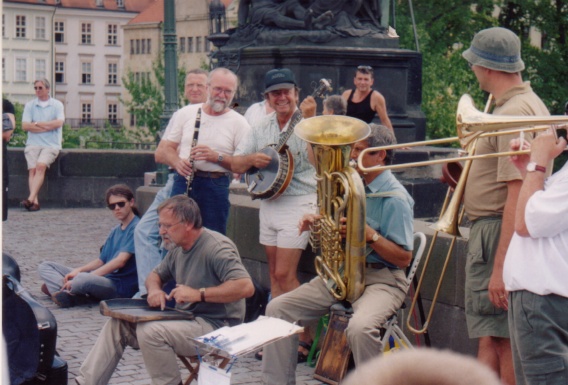 Europe - a place of strong traditions and colourful culture. Be it the street culture of Prague displayed here, or the musical revelry in mozart's Vienna, or the high culture of the Renaissance in Paris, European culture is one of its kind. It's indeed an eclectic mix of traditions and cultures unique to each individual people, but yet exhibiting commonalities in spirit and aspirations. In one word - awesome!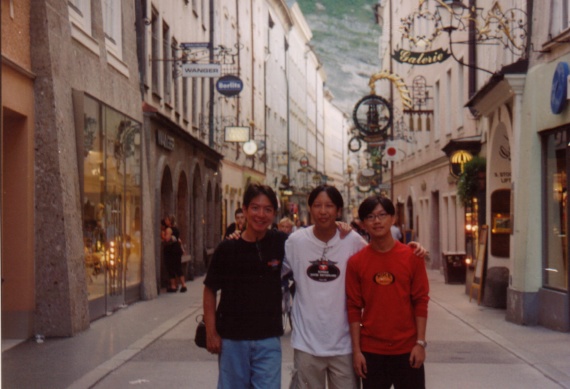 Yes, our three-week adventure in Europe has been a most fruitful endeavour. One of our greatest joys has just been to simply wander in the streets of Europe and to imbibe what the different locations have to offer. We have brought back with us many precious memories and are already anticipating our next encounter with this enchanting continent.


Mark's Photo Page

Europe Trip 2002 Highlights