First Love
He had a bright radiant smile painted from cheek to cheek; his comfortable home attire reflected his state of complete ease and serenity. Obviously delighted we had come to visit, he ushered us in and made us feel welcome. "She changed my life," he said, clearly still basking in the radiance of subliminal joy. We smiled, as we finally got a peek at the object of our visit, a sweet-natured, endearing, delightful little baby girl, weighing merely 3.5 kilograms. Fast asleep in a world of her own, yet oozing lavishly with babyish charm. Just two days old. His first child.
We were absolutely delighted when this friend of ours sent us a message two days ago, announcing the birth of his child. He'd been waiting for this day for months, anxiously and eagerly anticipating his entry into fatherhood. Another friend had an amusing dream that on the day of delivery, not one but four children would be born, and that the anxious father would faint on hearing the news of the quadruplet birth. But that was not to be. Instead it happened peacefully in the air-conditioned comfort of a hospital ward, with the eager father videotaping every moment of this historic occasion.
We listened to his every word in wide-eyed delight, listening how he took his wife by taxi to hospital, how she struggled in pain for hours before agreeing to take a painkiller, how the contractions finally came, how the little girl entered the world. Every word accompanied by a radiant smile, every moment encapsulated by perfect bliss.
"She changed my life," he said, "I'd never thought a baby would change my life this way." My friend shared what he'd learnt since becoming a father – what brand of milk powder to buy; how to burp a baby; how to change diapers. But he also shared the difficult moments in the hospital ward – how he held his wife's hands when she was screaming in pain; how they had to decide whether to use the painkiller, in view of the possible side effects.
But looking at him carry the little girl in his arms, I'm certain he feels that everything's worthwhile; the careful and gentle way he lifts her from her baby cot; the tender manner in which he wraps her in her baby clothes; the loving touch he furnishes when he dabs away the trail of baby drool. She looks so secure in his arms of love. And I know he'll probably keep her that way even after she grows up; after she goes on her first date; after she decides to marry the man of her dreams. And no matter what she does; whatever mistakes she makes, she'll always be daddy's little girl.
I know of another loving father. He's one who has taken care of my every need so far. He's hugged me tenderly in his arms of love, drying away the tears, but telling me it's ok to cry. He's been there in my happiest moments, when I've wanted a listening ear to share my most joyous experiences. He's also believed in me regardless of the numerous mistakes I've made; accepting me just as I am in spite of my deepest and darkest flaws. No words can describe how much I'm grateful for this father of mine; this God I've come to call my Heavenly Father. His unbounded love has been so much more than I can ever ask for or imagine about. There are so many times when I feel I'm unworthy of my Father's love, but I know in His eyes, I'll always be His little boy.
I had the privilege of carrying my friend's daughter in my arms. She was so small compared to me, so tiny, yet such a delight to behold. I marvelled at her beauty, but was even more in awe with the One who created her. I know that when He holds us in His arms, we're so tiny and so insignificant. But yet He chose to love us.
This article was written by Mark Lim Shan-Loong on 3rd August 2003.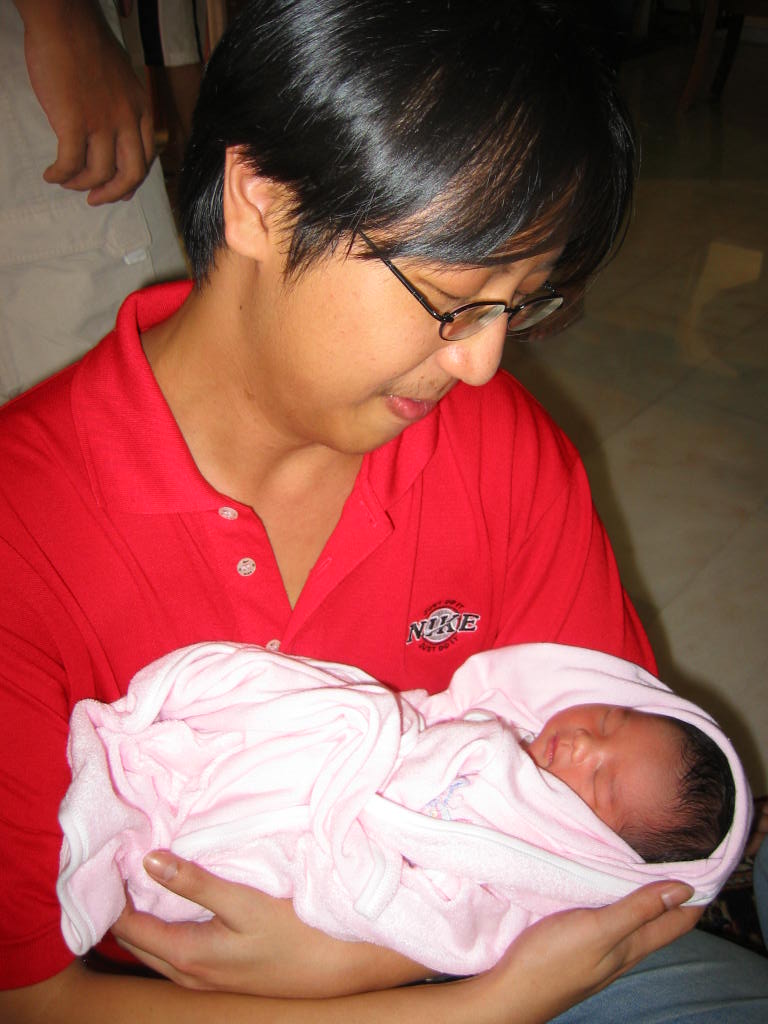 Comments? Email marklsl@pacific.net.sg to share your thoughts.



Words from the Heart